Posts for: May, 2013
By Pumilia Family Dental Group
May 15, 2013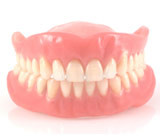 The image of Grandma and Grandpa taking out their dentures every night and placing them in a glass of water by the bed is still a reality for a lot of people.
If you have dentures, you probably know that the conditions in your mouth will or have changed over time, necessitating adjustments. This is because full dentures exert continuous pressure on the gum tissues and underlying bone of your jaw resulting in a slow shrinkage. The gum tissues, and the bone beneath, atrophy or melt away. The result — over time the dentures lose their original tight fit and become loose. This can cause discomfort and embarrassment as the dentures slip and slide around.
Reline (refit) your current dentures. If your dentures are in good condition and are functional, applying a new inner lining to the dentures will restore their former fit. Because the rate of bone loss differs from person to person, some denture wearers may need more frequent relines than others. A temporary reline involves adding a layer of moldable plastic material under the denture while you are in the dentist's chair. The material will harden and fill in spaces where the gums have shrunk away from the denture. For a more permanent relining, the dentures must be sent to a dental lab, which will replace the temporary material with permanent denture material. This can usually be done in one day.
A new set of dentures. If your dentures are worn or you cannot speak, eat, bite or chew properly with them, a new set of dentures may be the answer. The condition of your jaw is another factor. If examination shows that a reline will not achieve the fit and stability you need, then remaking the dentures is another option.
Dental Implants — State-of-the-art tooth replacement systems. Dentures used to be the only solution to the problem of missing teeth, but with today's technology it's amazing what dentists can do. Implants do not only replace teeth but also stabilize the gradual bone loss that takes place when teeth are missing. Choose dental implants to replace at least two of your missing teeth to anchor your dentures and make them more stable.
Have all your missing teeth replaced with dental implants. Dental implants are generally the best option for long-term denture wearers who have endured jawbone loss and can no longer tolerate dentures alone. Bridgework (or dentures) are attached to the implants, stabilizing them and the underlying bone. The new teeth also provide support to the face, lips and cheeks giving a more youthful appearance.
Contact us today to schedule an appointment or to discuss your questions about dentures and other tooth restorations. You can also learn more by reading the Dear Doctor magazine article "Loose Dentures."