Dr. Pacita Pumilia
Please click the link below to read about Dr. Pacita Pumilia and her team.
Pumilia Family Dental Group
755 S. Mulford Rd.
Rockford, IL 61108
Find us
Find helpful information in our digital library.
Posts for tag: missing teeth
By Pumilia Family Dental Group
August 01, 2017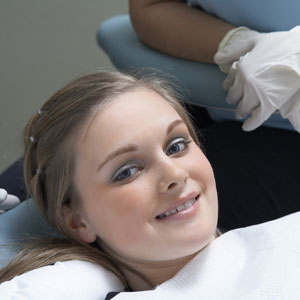 Dental implants are widely considered by both dentists and patients as the premier choice for replacing missing teeth. Unfortunately, implants aren't the appropriate choice for teenagers with missing teeth.
That's because their jaws won't fully finish most of their growth and development until early adulthood. An implant placed too early could become misaligned as the jaw matures. The best approach for a teenager is a temporary restoration until they're old enough for an implant.
There are a couple of good options. One is a removable partial denture (RPD), prosthetic (false) teeth set in an acrylic base that mimics gum tissue at the locations of the missing teeth. RPDs, which stay in place by way of metal clips that fit over other teeth, are easy to wear and maintain.
On the downside, an RPD can break if you bite into something too hard. They can lose their fit and may need to be replaced with a new one. And, some teens aren't quite keen on wearing a "denture."
Another option is a bonded or Maryland bridge, a kind of fixed bridge. We bond dental material to the back of a prosthetic tooth with portions of the material extending out from either side of it.  We then bond these extending tabs to the back of the teeth on either side of the prosthetic tooth to hold it in place. Unlike traditional bridges, we can eventually remove it without any permanent alterations to the teeth it's attached to.
Before we undertake a bonded bridge, though, we must make sure the gums and bone of the surrounding teeth are free from periodontal (gum) disease and are healthy and strong enough to support the bridge. We also need to be sure the patient doesn't have a deep bite or a teeth grinding habit, which could cause the teeth to make contact with the tabs and break them.
The patient also needs the maturity to responsibly perform diligent oral hygiene: this type of bridge has a tendency to build up disease-causing plaque, so brushing twice and flossing once every day is critical. Not doing so increases the risk of tooth decay or periodontal (gum) disease, which could complicate a future implant.
We can discuss these options after a thorough dental examination of your teenager. Either way, we'll be able to restore your teen's smile until we can undertake a more permanent restoration.
If you would like more information on tooth replacement options for teenagers, please contact us or schedule an appointment for a consultation.
By Pumilia Family Dental Group
December 29, 2014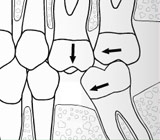 For most people, replacing missing front teeth takes a higher priority over missing back teeth. The reason is obvious: others can see those missing in front, but not necessarily those in the back.
From a functional view, however, you should still consider replacing missing back teeth. Not only will it improve your chewing ability, it may also prevent a chain reaction of negative effects to your remaining teeth.
Teeth are held in place in the jawbone by a membrane called the periodontal ligament. The ligament is a living tissue that allows teeth to move to keep contact with adjacent and opposing teeth as natural wear occurs. When a space is created by a missing tooth, this natural movement accelerates and the teeth may shift beyond normal ranges.
As a result you can encounter excessive mobility of teeth from bite irregularities, uneven tooth wear, bone loss, potential painful problems with the temporo-mandibular joints (connecting the lower jaw to the skull), and a loss in facial height.
There are three basic options for this kind of tooth replacement. The best option is dental implants: these free-standing replacements don't normally affect surrounding teeth, they're easier to clean, and they help support the bite. On the downside, there must be enough remaining bone to support the implant.
The next best option is a fixed bridge. This option only works, however, if there are teeth on either side of the missing tooth space capable of supporting the bridge, and they must be reduced in size by removing the enamel with the dental drill. They also have a tendency to retain plaque, the main cause of gum disease.
That leaves the last, and least favorable, option, a removable partial denture. They may also trap food and be difficult to wear. They can move in the mouth, stressing — and possibly loosening — the remaining teeth that hold them in place. With all its drawbacks, though, if a partial denture is the only solution to missing back teeth, it's a better alternative than doing nothing and risking long-term problems.
If you would like more information on replacement options for back teeth, please contact us or schedule an appointment for a consultation. You can also learn more about this topic by reading the Dear Doctor magazine article "Replacing Back Teeth."