Posts for tag: sleep apnea
By Pumilia Family Dental Group
November 11, 2014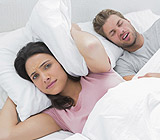 Your snoring isn't just an annoyance to other members of your household — it could indicate a serious health issue. Fortunately, there are treatments, some of which your dentist might be able to provide.
Snoring is the result of soft tissue structures in the back of the throat, including the tonsils, the uvula, the tongue or fat deposits, collapsing on each either and obstructing the flow of air into your lungs. The obstructions produce a vibration that is the source of the snoring.
These obstructions could lead to a serious condition known as Obstructive Sleep Apnea (OSA). As the name implies, the obstruction causes a complete cessation of airflow for several seconds. As oxygen levels drop, the body responds by waking for one to three seconds (known as "micro-arousals") to restore airflow. These disruptions can occur several times a night, as much as fifty times an hour. The depletion of oxygen and resulting low quality of sleep can contribute to high blood pressure, a higher risk of heart attack or stroke, and the possibility of accidents caused by lower alertness during the day.
You can help reduce the effect of OSA by losing weight and exercising. You may also be a candidate for Continuous Positive Airway Pressure (CPAP) therapy, which utilizes a device that delivers pressurized air into the airway while you sleep.
Depending on the exact cause and extent of your OSA, you might also benefit from treatments provided by your dentist. We can develop a custom-fitted oral appliance, similar to an orthodontic retainer or sports mouthguard, which you wear while you sleep. These devices work by repositioning the lower jaw forward, thereby maintaining an open airway by also moving the soft tissue of the tongue forward. For more advanced conditions, certain surgical procedures that realign the jaw or remove excess tissue, the tonsils and adenoids, or parts of the uvula or soft palate could be considered.
To know your best treatment course, you should schedule a complete oral examination to determine the exact cause of the obstruction, and possibly a polysomnogram, an overnight study performed in a sleep lab. And as your dentist, we might be able to provide the key for a better night's sleep and a healthier tomorrow.
If you would like more information on how we can address your problems with sleep apnea, please contact us or schedule an appointment for a consultation. You can also learn more about this topic by reading the Dear Doctor magazine article "Snoring & Sleep Apnea."
By Pumilia Family Dental Group
April 20, 2013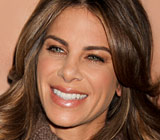 Jillian Michaels, personal trainer and star of television's The Biggest Loser isn't afraid of a tough situation — like a heart-pumping exercise routine that mixes kickboxing with a general cardio workout. But inside, she told an interviewer from Dear Doctor magazine, she's really a softie, with "a drive to be one of the good guys." In her hit TV shows, she tries to help overweight people get back to a healthy body mass. And in doing so, she comes face-to-face with the difficult issue of sleep apnea.
"When I encounter sleep apnea it is obviously weight related. It's incredibly common and affects millions of people," she says. Would it surprise you to know that it's a problem dentists encounter as well?
Sleep apnea is a type of sleep-related breathing disorder (SRBD) that's associated with being overweight, among other things. Chronic loud snoring is one symptom of this condition. A person with sleep apnea may wake 50 or more times per hour and have no memory of it. These awakenings last just long enough to allow an individual to breathe — but don't allow a deep and restful sleep. They may also lead to other serious problems, and even complications such as brain damage from lack of oxygen.
What's the dental connection? Sleep apnea can sometimes be effectively treated with an oral appliance that's available here at the dental office. The appliance, worn at night, repositions the jaw to reduce the possibility of the tongue obstructing the throat and closing the airway. If you are suffering from sleep apnea, an oral appliance may be recommended — it's a conservative treatment that's backed by substantial scientific evidence.
As Michaels says, "I tell people that [sleep apnea] is not a life sentence... It will get better with hard work and a clean diet." So listen to the trainer! If you would like more information about sleep-related breathing disorders, please contact us for a consultation. You can learn more in the Dear Doctor magazine article "Sleep Disorders and Dentistry."